As one of millions of ZBrush perpetual license holders, today I received this gem of an offer from Maxxon: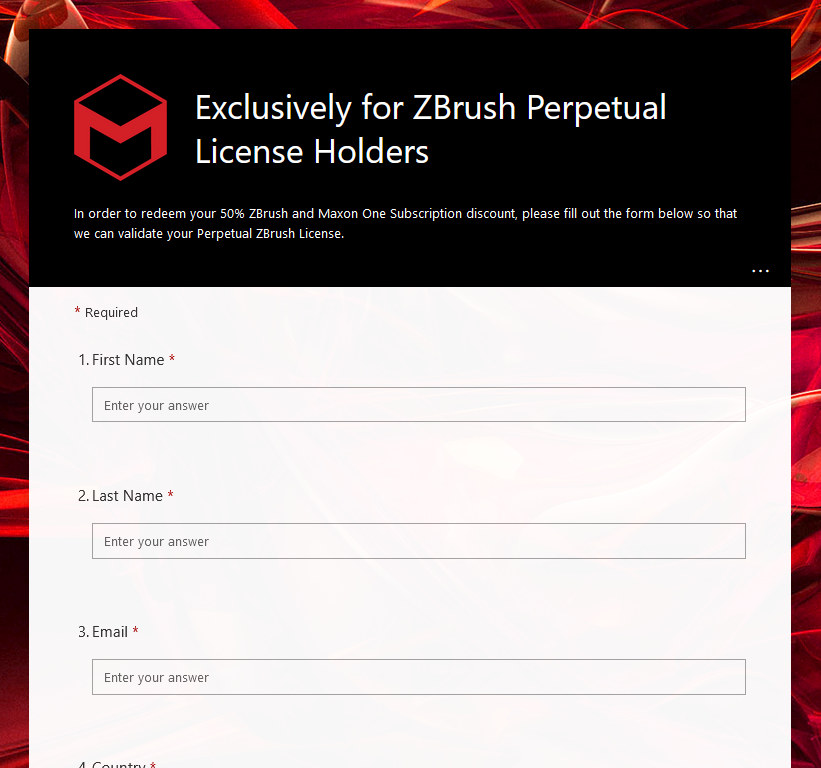 With the following decription:
ZBrush has always stood for innovation and artistic empowerment. That is a philosophy that is shared by the Maxon creative community. We believe in empowering artists any way we can to help expand your capabilities and offer more to your clients. We are confident that having complete access to all Maxon tools, services and training will help you achieve your goals.
Just another bunch of corporate mumbo-jumbo with a poorly concealed attempt at selling a subscription to a perpetual license holder. Classic.
Because We Care
"...We are confident that having complete access to all Maxon tools, services and training will help you achieve your goals."
Allow me to fill in the blanks in this marketing pitch.

"We are confident that having complete access to all (paid subscription) Maxon tools, (paid subscription) services and training will help you achieve your goals"
To be fair, I have to admit here that indeed, training media for MAXXON tools is plentiful and good. And actually available for free.
As for the rest of this generic boilerplate statement – am I supposed to feel warm and fuzzy because MAXXON oh so care about my goals all of a sudden?
Under New Management
If you've been living under a rock, here's a shocker for ya: MAXON recently acquired Pixologic. And knowing how subscription-happy MAXON is, it's no surprise that eventually they would change ZBrush licensing model to fall in line with the rest of their products. Sure, some time ago they caved under pressure (or loss of customers) and started offering perpetual licenses, but looking at how the industry is slowly moving towards subscription-only business model and how... flexible MAXXON is, I would expect this to change in the upcoming years.
So what does this mean? Well, you don't need to be a genius to correlate "Special Offer" and "Perpetual License Holders" when they are used in the same sentence in corporate speak: "You paid once and that's not good enough".
An offer I would actually be interested in would be some perpetual license upgrade terms for those who wish to update their existing copy of ZBrush to the latest version at a discount on demand. You know, when you decide that the time has come or new features are worthy of a paid upgrade. It's something we could previously even do for free with ZBrush (with annual updates generously provided by Pixologic to all customers), but now MAXXON only licenses the current version of the Software, with free upgrades available only one year after purchase... And then what?
Call Us Now!
Wait! Looks like MAXXON actually mention a paid upgrade path on their store page: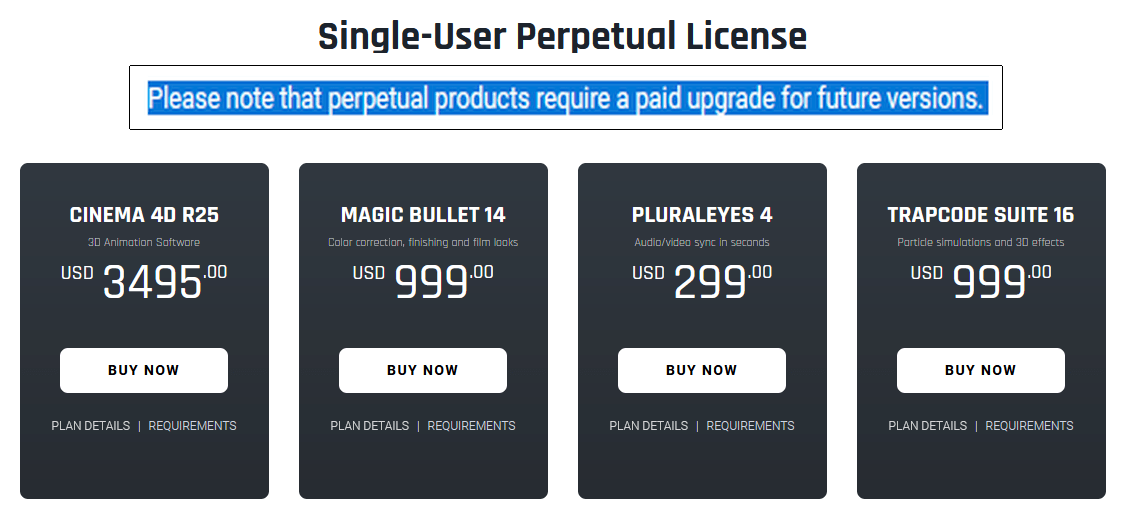 But... There's no word on how much such a paid upgrade would cost. Nothing on this page as well... Only mentions academic licenses specifically.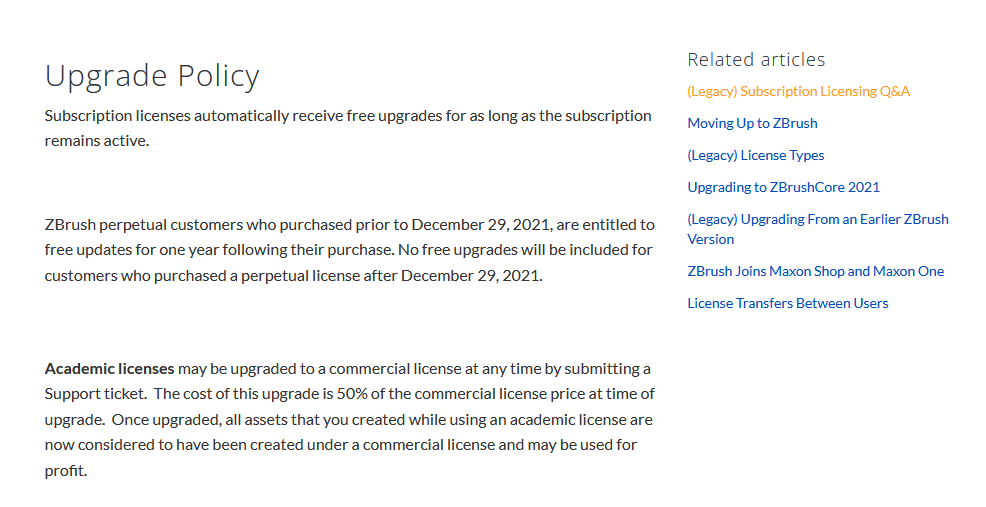 Oh! Oh, right. I get it. To find out how much you would need to pay you have to manually contact MAXXON.
No, I'm not kidding:

Do you know why? Simple: you'll have to go through one of MAXXON sales team members who are hell-bent at trying to sell you a subscription instead. As for trying to contact "your local reseller" – I contacted two resellers in my area and guess what? Both of them could not just name the price and tried to re-direct me to a MAXXON rep. All roads lead to Rome, right?
Call me a pessimist, but just in case they're actually getting everything ready to ditch perpetual licensing/upgrade for ZBrush altogether, as another artifact of the times when you could actually own a perpetual license to a piece of Software, here's a snap of the ZBrush Store page as it looks right now: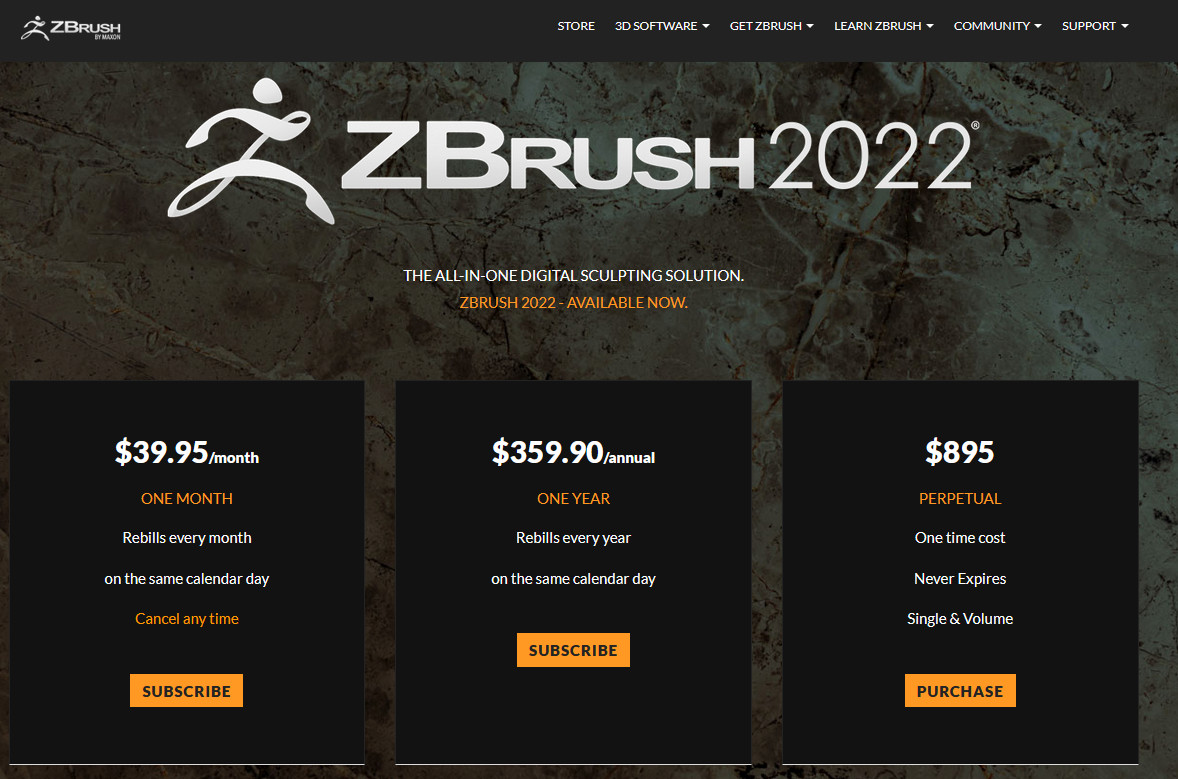 I really expect the "Perpetual" option to go away, so once again: if you want to get your hands on pretty much the most powerful sculpting/modeling tool in existence without having to pay monthly/annually "just because", do it.
As it stands today, ZBrush is extremely feature-rich, and provides so many industry leading tools, that whatever the promises of "new features" MAXXON could come up with, the fact is: ZBrush is just good enough as it is. Be it sculpting, auto-retopo tools, painting and even hard modeling — ZBrush has it all. Being almost entirely GPU-independent, it will also run on any x64-compatible platform in the next 5+ years. So going with a perpetual license of the 2022 version of ZBrush will only set you back 895$, whereas if you go subscription, you will have paid almost the same amount after about 2 years.
And for those of us with existing perpetual licenses: let's see how the story develops. In the mean-time as for the special subscription offer itself:
In order to redeem your 50% ZBrush and Maxon One Subscription discount, please fill out the form below so that we can validate your Perpetual ZBrush License.
Let me get my wallet real quick, for it's an offer I simply can't refuse.
It's just that good.